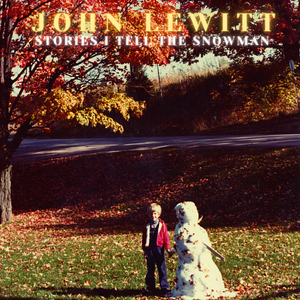 For the past 4 years I've been writing songs reflecting back on my life, specifically on my childhood experiences.  At the beginning of this year I knew I was getting close to finishing this project and I had big plans.  Then COVID hit and I had to rethink what I was going to do.  So instead of doing a traditional album launch with some live shows and merchandise, I've come up up with the following plan….
Starting today and continuing for the next 12 weeks I will be releasing a song every week from an album called STORIES I TELL THE SNOWMAN.  Each Friday will see a song released to all the digital streaming outlets.  And then on the following Monday I will release a unique video for each song with a short story about it.  Since you're reading this here, I'm making it really easy to follow along.   Just bookmark this page and check in on it from time to time, as it will be constantly updated over the next 12 weeks.
I've created a playlist on Spotify that I will update each week with the latest song release.  You can follow that playlist here.  And if you want to stream the song(s) on your preferred streaming service, just follow this link and you'll be able to choose whichever one you use.
---
ROCK & ROLL DREAMS (October 2nd, 2020)
Stream on Spotify   Stream on Apple Music
Every single lyric in this song is true.  As a kid, I thought all it would take to be discovered was time.  Little did I know that talent, hard work and a TONNE of luck were the prerequisites for a career in Rock & Roll.   When I was five years old, I took piano lessons for a couple years, but hated them and eventually quit - I was being trained to be a classical pianist and that really wasn't in the cards.  When I was in grade eight I got the urge to start writing 'songs' which leaned heavily on the very basic piano skills I had picked up years earlier.  I bought the easy version of the sheet music to Purple Rain and played that until my fingers bleed.  And the rest, as they say, is history.
So in lieu of a live show, I'm kicking things off with an unplugged version of the first track, Rock & Roll Dreams.  Enjoy.
---
VIDEO KIDS (October 9th, 2020)
Stream on Spotify  Stream on Apple Music 
This is the only song on the album which isn't about me.  A frequent collaborator of mine, Tom Hoy, sent me a demo of this song when I was just starting out on this project.  It fit in so perfectly with the theme of looking back that I wanted to include it.  I loved the sentiment, even though I was never much of a video game player.   In the end I changed some of the lyrics so it fit a little better with the rest of the songs I was working on.    
FWIW, this is my attempt at trying to sound as modern as possible, kind of like Ed Sheeran, who my daughter was listening to a tonne when I was working on this one (I didn't say I was successful!)
---
HE NEVER LET ME WIN (October 16th, 2020)
Stream on Spotify  Stream on Apple Music
This one was written for my father, who passed away in 2010.  We used to have a pool table in our basement and I would play countless games of snooker or Boston with him.  And as the title says, he never let me win.  Victories were always hard earned and that's the way it should be (don't get me started on soccer games with no scores, and participation ribbons for everyone, we coddle our children way too much nowadays!).    My Dad was a very successful man, but he was very humble.  To me, he was just my Dad and I didn't realize his extraordinary accomplishments until I was an adult.  So this one goes out to him.
---
YOUNGER DAYS (October 23rd, 2020)
Stream on Spotify   Stream on Apple Music
I have a small group of friends who go all the way back to high school.  When we get together, we inevitably talk about the past (much to the chagrin of my kids) and a lot of the time, being together brings out our youthfulness and we start acting like we're 19 again.  I guess for those of us who enjoyed our younger days, they are hard to let go of and are always nice to revisit.
Video premieres Monday October 26th.
---
COLOUR TV (October 30th, 2020)
Stream on Spotify   Stream on Apple Music
Growing up, I spent my summers at our family cottage in Thornbury, Ontario.  It was a much simpler time.  For entertainment I had comic books and our 13" television.  We got two channels when the rabbit ears were working properly.  Every weekday at 4:00, I'd grab a pop and a bowl of chips and watch re-runs of classic TV for an hour or so.  Most of them were in black and white, though some, like Hogan's Heroes started their run in black and white but switched to colour.  Looking back, I do miss those simpler, innocent times when I didn't have a care in the world.
---
KNOW IT ALL (November 6th, 2020)
Stream on Spotify   Strem on Apple Music
I can only speak for myself, though I'm sure it's a common theme among children and teens - but I really thought I knew it all.  In retrospect not all of my parents or teachers suggestions were good ones, but there were definitely enough good pieces of advice that I ignored simply because I assumed I knew better.  Oh well, I guess that's just a part of being young and being wrong!
---
CHILDHOOD CRUSH (November 13th, 2020)
Stream on Spotify.    Stream on Apple Music
I would guess that this will be the most universal song of this project.  As a kid I had a bunch of childhood crushes and was on the receiving end of a few too.  Both sides of this story are completely true.  Looking back,  I know some girls had crushes on me and either I didn't realize it at the time or I wasn't ready for them (and in one case scared sh*tless by a girl who was stalking me in grade 2!).  And then there were the crushes I had, which never came to fruition, either because I didn't know what to do or developing anything serious was difficult to do back in the day (you know, before we all had cell phones, text, Snapchat, IG, etc).   I hope this song will bring back your own fond memories of long lost, childhood love. 'Childhood Crush' is available digitally now, just follow the link.
---
TROUBLEMAKER (November 20th, 2020)
Stream on Spotify   Stream on Apple Music
There was an innocence to the trouble that we could get into back in the day - and that innocence is long gone.   You tried to be a good kid and when you strayed and did something foolish, you got in trouble.  Prank phones calls?  You can't do those anymore.  Sneaking out of the house?  Probably not the wisest things to do nowadays.  Cigarettes?  They didn't kill you back then (and now it's all about vaping anyways).  My philosophy was always don't do anything stupid enough to be caught, though that sometimes backfired.  Thank God cell phones didn't exist back then and thank God there were no security cameras around to catch every single stupid thing we did as kids.
---
MORE COMPLICATED (November 27th, 2020)
Stream on Spotify     Stream on Apple Music
I grew up in Port Credit, which is part of Mississauga.  It was a true suburban childhood. From a very young age, I had the freedom to do what I wanted.  On those lovely fall or spring days, after school?  Just make sure you're home for dinner at 6:00.  After dinner?  Just make sure you're home in time for bedtime.  TV was Magnum PI, The Love Boat and Fantasy Island.  Films were ET & Star Wars.  Music was Chum FM & MuchMusic.  I knew who the president of the US was because his wife Nancy Regan was on an episode of Different Strokes with her 'just say no to drugs' campaign.  My trips into Toronto were centred around going to the Ex and Ontario Place, baseball and hockey games with my Dad, and the occasional Saturday night dinner downtown (though I had no idea where we actually were at the time).  So I wasn't exactly sheltered from the world around me by my family, rather I was sheltered from reality of the times.  The amount of information and entertainment available to my children now makes me look like I lived in prehistoric times.  And that synth line is my homage to all the 80's pop bands I listened to growing up. 
---
MY BEST CHANCE (December 4th, 2020)
Stream on Spotify   Stream on Apple Music
When I was in high school they would do a musical one year and then a play the following year.  At one point in my life I considered myself an actor (I actually have a BA in Drama & Theatre).  So in the non-musical years I would audition and end up with a mid level part.  In the years we did the musicals I played piano in the pit band.  The first one I did was Snoopy (which was a sequel to 'You're A Good Man Charlie Brown') and the second I did was 'Oliver'.  While I'm actually not a huge fan of musicals, I do love playing Cole Porter and other American Songbook songs on the piano.  So, this song was inspired by all that.
---
FIVE FINGER DISCOUNT (December 11th, 2020)
Stream on Spotify    Stream on Apple Music
The popular music industry has such a storied history of doing the wrong thing.  Publishing rights and royalties stolen from the artists in exchange for a new Cadillac.  All those great videos that aired on MTV and MuchMusic - well they made the artist pay for them but wouldn't allow the artist to actually own the video!  And remember when they introduced CD's in the 80's and started selling these albums at twice the price of LP's, but told us that prices would come down once CD's got popular?  Well they didn't.  All this karma came back to bite them in the 90's when Napster launched and started a revolution that would forever change the music industry.  So, what does this have to do with my song?  Well, in order to learn how to play things on the piano, I needed sheet music and publishers used to charge exorbitant prices on sheet music.  So what did I do?  I fought the system!  First off, I photocopied a bunch of sheet music, which was illegal to do, but hard to enforce.  And secondly, from time to time, I discounted some of my purchases by buying a song book for $25 and then inserting a $4 single song sheet into the book.  Bad on me, I know, but I was young and foolish.  BTW, if you go to ultimateguitar.com nowadays you don't have to buy anything - it's all there for free.  Anyways, here's the 2nd last song from my new album, available everywhere music can be found. 
---
TRIED & TRUE (December 18th, 2020)
Stream on Spotify     Stream on Apple Music
'Tried & True' is the closing statement of my autobiographical album.  As a child I thought it was inevitable that I would be a successful musician and that I would one day be 'discovered'.   But the definition of being a successful musician nowadays compared to the 10, 20 or even 30 years ago has changed.  And what was once a tried and true path to success really is no more.  One figures if you do all the right things, in the way you've been told, then your plans will work out.  But what happens when the goal posts are moved and then moved again and again?  I don't know.  Perhaps you adapt and continue down the same path in the hopes that you catch up.  I was at a music conference years ago and one of my peers said to me, "Man, you would've been a star back in the 90's!"  Oh well, I guess I was just a little too late.
Video Premieres Monday December 21st