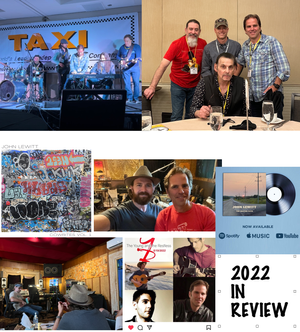 Last year I sent out a year in review update on my music career and people seemed to like it, so I thought I'd do it again.  Here are some of the highlights of my year. 
(Note that at the very end of this post I have included links to both Spotify and YouTube playlists for the songs mentioned below, if they are currently released). 
- 2022 started off with a unique use of a song called Believe In Santa.  A virtual fitness app out of the UK licensed the song for a two month use.  When I started seriously doing this 9 years ago I was solely focused on getting my songs used in Films & TV shows - who knew that a whole world of opportunity would appear with things like this and social media? 
- I've had a tonne of placements on the Young & The Restless CBS TV show.  On 5 days a week, for 40 minutes each day, the Y&R uses more music than any other TV show in North America.   All of these songs, save one, have been used multiple times this year on the show; Hold That Thought, If We've Only Got Today, Don't Want To Be Alone Tonight, For All Time, Wherever We Are, Could I Ever Be Your Man (currently unreleased), and It Will All Be Beautiful (coming out on an EP in January 2023) 
- I released two completely different albums this year; The Beaten Path and Cowrites Vol. 1.  The first one focused on songs that I wrote specifically for my artistic side while the second one was written specifically for sync placements in Film & TV and features songs that I co-wrote with many other talented songwriters. 
- The Beaten Path got some good press and a bit of radio airplay, but probably the coolest thing was being interviewed by the Americana Music Profiles podcast.  If you'd like to hear it, here's the Spotify link, but you can also Google my name with the word podcast and find it all over the web: https://open.spotify.com/episode/1GWI2biHNoGuQHa3VY3HIu. 
- In the summer I spent some time at the Tragically Hip's studio in Bath, Ontario helping my friend Mik Perlus record his debut EP.  Beyond producing it, I played the bass guitar and other assorted instruments.   It was a pleasure to play with Mik and his fellow Student Bodies co-star Jamie Elman, Josh Trager of the Sam Roberts Band (a man with many cool stories), and guitar wunderkid Randy Starr.  The EP comes out January 27th and an album release show is scheduled for the night before at the Supermarket in Toronto. 
- I did a country / hip hop crossover track with Owen Chaim (he's the one doing the rapping) and Matt Hirt that has gotten dozens and dozens of uses on an ESPN show called Portraits. 
- I signed my one hundredth song back in October (and a bunch more after that!).  But what exactly does that mean?  In a nutshell, I sign my songs to music libraries, either exclusively or non-exclusively, and then these libraries go out and pitch them to Film & TV opportunities. 
- 31K people streamed 80k songs of mine on Spotify last year.  That's a lot of people listening to someone whose name isn't Justin  Beiber.  Add in Apple Music and Pandora and it's over 40k listeners! 
- After a two year hiatus because of Covid, I was able to go to my favourite music conference in LA this year and hang out with all my music friends and make some new ones as well! 
- For 2023 I'm planning on releasing a bunch of music.  Confirmed is a new EP with Jeff Allen called AIM HIGH which is coming out January 13th (you can presave it here: https://distrokid.com/hyperfollow/johnlewittandpiewackit/aim-high ).  Also in the planning stages is a full blown album of cover songs that I did for a specific music library and an album of piano ballads that I have written over the years.  And then who knows what else! 
- Oh yeah, and I turned 50 this year! 
If you've gotten this far, thanks for reading and I wish everyone the best this holiday season. 
Thanks, 
John 
P.S.  Here are the playlists I mentioned. 
Spotify Playlist:
 https://open.spotify.com/playlist/6uhlB05ptpu5X8LOlvXDN8?si=fAQdp7edQkCaykyGVLnuVA 
YouTube Playlist: 
https://youtube.com/playlist?list=PL-lB-4fCuClFL-TDrO-GEKC0qr6KXBEye