Since I started focusing on my music seven years ago I have had some truly rewarding experiences.  Some highlights?  My music has appeared in Film & TV.  I've had a tonne of songs played on the radio.  95K people have streamed my music over 250K times on Spotify alone.  And probably one of the best things of all is the friendships I've made with other musicians throughout the world.  All of these things sustain me and feed my creative drive. 
I have big plans for 2020 and I wanted to share them with you.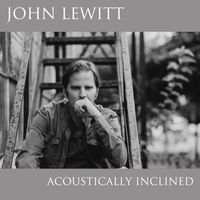 1) Released today on all digital platforms is a new EP called 'Acoustically Inclined'.  This is a collection of acoustic based tunes that I have recorded over the past few years and signed with libraries in Los Angeles who are actively pitching them to film & television opportunities.  They're all laidback, acoustic based songs, perfect for those weekend mornings where you just wan't to relax with a cup of coffee and doing nothing.  Two of them were collaborations.  'I've Got a Lot of Friends' was done with Tom Hoy, who I have worked with in the past, most noticeably on the song 'Perfect Storm'.  The other collaboration is a new one with Magne Kolstad, on a song called 'Hold That Thought'.  I hope you like them as much as I do.   
2) For the past three years, I've been writing and recording a very personal album and I'm pleased to say that I will be releasing it later this year.  It may be out in the Spring, but it may it appear in the Fall.  It just depends on when I think I've got it perfect, but it will be this year.  And maybe I'll play some live shows in support of it. 
3) This past year I launched a band called The Allen Lewitt Project, which is a collaboration between myself and Jeff Allen.  We split all the instrumental duties, though Jeff always does the drums and I always do the lead vocals.   All the music we produce is intended to be used in Film & TV shows and I'm proud to say, of the 13 songs we recorded in 2019, 12 have been singed to music libraries actively pitching them.  Over the course of 2019 we released three EP's and I'm pleased to announce that we will be releasing a full length album in 2020 so stay tuned. 
I would like to thank you all for your continued support and I hope the new year treats you well. 
All the best, 
John