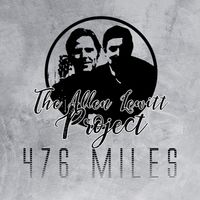 I'm really excited to be able to share the debut album by The Allen Lewitt Project, a band I recently formed with Jeff Allen.  We are really proud of the 12 songs on '476 Miles' and we hope you'll take a moment and check them all out. 
With Covid-19 locking down the world, we will be unable to embark on our planned North American tour, which included stops in Toronto, New Jersey, Nashville, & a residency in Las Vegas.  So the only way to hear this music is by streaming or buying it!  Just follow this link to be directed to your favourite digital service.  
Jeff & I write and perform everything together, though Jeff is always on the drums and I'm always the vocalist.  And for those of you who are interested, these songs are licensed to a couple music libraries in LA who are actively pitching them to Film & TV opportunities.  Our biggest success so far has been with 'Kiss You Girl', which has been used more than 10 times on The Young & Restless!
To find out more about the band click here.